Shangri La
Kuala Lumpur, Malaysia
1561
Recommend?
Accommodations (

Hotel )
|
Adventure
#1
recommended
Adventure Hotel
in
Kuala Lumpur, Malaysia
(view list)
A Hidden Paradise In The Heart Of A Metropolis
Welcome To Shangri-La
You wake up snug in downy soft bedding, with a serene view of the beautiful gardens and Kuala Lumpur Tower, as Malaysia's vibrant capital city bids you a fine morning. You feel relaxed and tranquil in the luxurious guestroom at Shangri-La Hotel, Kuala Lumpur. Labyrinths of nature at the garden maze Your day begins with a sumptuous breakfast at the hotel's Lobby Lounge. Satisfied, you head out to the confluence of the ancient Gombak and Klang waterways. The trip rewards with access to the trendy mercantile and fashion centres in the city's Golden Triangle. After some quick shopping, you crave the perfect melange of the aromatic spices of Malaysian cuisine. The hotel entices your return with an array of dishes at the Lemon Garden Cafe's international buffet. You step into the restaurant and experience true Malaysian cuisine prepared by master chefs.
The rest of the day is spent walking off your indulgent lunch. Absorbing the sights and sounds en route, you soak in the ambience of Kuala Lumpur. You marvel at the fascinating juxtaposition between old and ultra-modern. The winding, meandering alleys of this city reveal hidden surprises. Energized by these experiences, sundown reveals a night still too young for you. After a traditional Chinese dinner at Shangri-La's renowned Shang Palace, you unwind at Arthur's Bar and Grill with signature cocktails and fine wines. With one last look at the sparkling towers, you draw the curtains, and retreat behind lush covers to prepare for tomorrow's adventures. Enjoy your enchanting dreams, with compliments from Shangri-La Hotel, Kuala Lumpur.
Rooms & Suites
The hotel's 662 guestrooms and custom designed suites are appointed with modern amenities to offer only the very best in comfort, each with an inviting ambience, contemporary décor and commanding views of the city. Click here to see our rooms.
Dining
Savour the delicacies and gastronomic delights of Shangri-La Hotel, Kuala Lumpur, whether you dine at the stylish and worldly Restaurant Lafite, sample market-fresh sashimi at Zipangu or feast on splendid Cantonese cuisine at Shang Palace. Your dish of choice will be prepared by some of Southeast Asia's finest chefs, and served by staff known for their grace and warmth. Get a fresh start to a new day with an invigorating beverage at Poolside Terrace, or enjoy the end of a busy day at Arthur's Bar & Grill or our popular Lobby Lounge.
Health & Leisure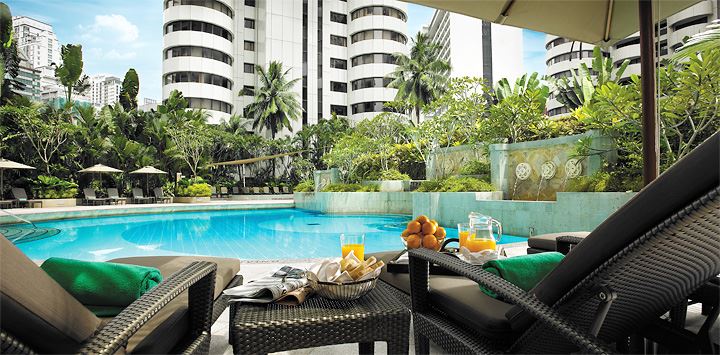 The Health Club is fitted with state-of-the-art equipment for strength training, toning, cardio workouts and body building. There are Jacuzzis, saunas and steam rooms to complete the fitness experience. An adult swimming pool and children's paddling pool outside are available to guests and Health Club members. Relax and recharge your energy at the Spa. Choose from a wide range of massages and body treatments.
Weddings
Whether you want a luxurious grand wedding celebration or a private ceremony with close friends and family, trust Shangri-La Hotel, Kuala Lumpur, to make the special occasion everything you ever imagined it would be and more. Professional and dedicated wedding planning specialists are on hand to guide you through the details and help you make the right choices. Click here for more informaton on weddings.