Dolphin Discovery
Cancún, Mexico
1558
Recommend?
Activities (

Wildlife Encounters )
|
Adventure
#2
recommended
Adventure Wildlife Encounters
in
Cancún, Mexico
(view list)
Come And Swim With Dolphins: The Experience Of A Lifetime!
Welcome To Dolphin Discovery
Dolphin Discovery's swim with dolphins programs are well known for having special and unique features unlike any other. Explore all of our programs and the Deals section for great savings in your next visit.
Dolphin Discovery is the #1 dolphin company in the world. We have parks in the most relevant tourist destinations worldwide, like in the Mexican Caribbean: Dolphin Cancun-Isla Mujeres and Garrafon, Cozumel, Costa Maya in Mahahual, Riviera Maya and Dreams in Puerto Aventuras, Dolphin Maroma in Playa del Carmen and Tulum-Akumal. Also in Mexico in the center and pacific area: Dolphin Discovery Six Flags, Dolphin Vallarta and Aquaventuras, Los Cabos.
We also have important parks around the Caribbean Islands like Tortola, Grand Cayman, Anguilla St. Maarten, Punta Cana and St. Kitts. And since 2015, we are in Panama City Beach Florida, Jamaica with four more parks and Zoomarine at Rome, Italy.
About Us
Dolphin Discovery is home of the most loved dolphins, our parks and staff are certified to give them the best care. We can offer you the experience of a lifetime in 24 parks in 9 countries and with more to come. With more than 6 million visitors since our opening, we are the #1 dolphin company in the world!
Swim With Dolphin Program
Dolphin Royal Swim
The most fun and unique program, designed to exceed all your expectations. Feel the thrill of foot-push; The dolphins will rise you above the water surface by pushing you from the soles of your feet.
Dolphin Swim Adventure
A fast and exciting ride with the dolphin while you hold onto their pectoral fins; in the magnificent belly-ride. You will have the opportunity to interact with dolphins as you've never imagined.
Dolphin Encounter
This program is designed for all ages to have a great learning experience and meeting, know more about the wonderful dolphins by interacting with them. The hand-target is very entertaining as the dolphin will jump to touch your hands. You will also receive a kiss and a hug unforgettable!
Weddings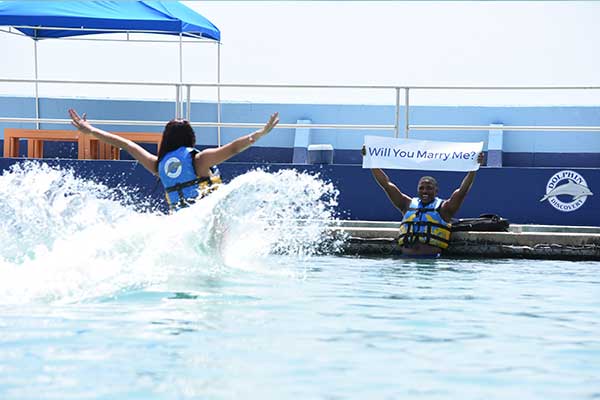 Live a unique moment in contact with nature. Your wedding is the most exceptional moment of your life and you will always remember your wedding day celebrated with the dolphins, that's for sure, and of course if you are looking for something different and really special, then an experience in Dolphin Discovery will actually exceed all your expectations.
Set sale through the Caribbean Sea on a gorgeous catamaran arriving to Isla Mujeres after 40 minutes of extremely wonderful views, Cancun-Isla Mujeres is the most popular location in the world for its spectacular views and pristine waters bathing the most awesome white sandy beaches. This is the most romantic option of the Mexican Caribbean Sea.
The celebration begins when a dolphin comes over bringing flowers for the groom and bride giving them the most beautiful welcome to their new life together, and continues overlooking the turquoise Mexican Caribbean and swimming with dolphins along with your beloved one. The Royal Swim program offers, tenderness, action and speed through the kiss, the hug, the dorsal tow and finally with the famous foot push - when two dolphins propel you from your feet soles through the waters.
Afterwards the guests can watch the newlyweds video production. Relax and let us take care of all the splendid and simple details to give you a one of a kind wedding at our location. We will focus only on you to make the best out of that day, an unforgettable experience for your friends, family and of course, yourselves. We have endless options to customize your ceremony according to preferences and tastes; we can arrange everything you need.
The Wildlife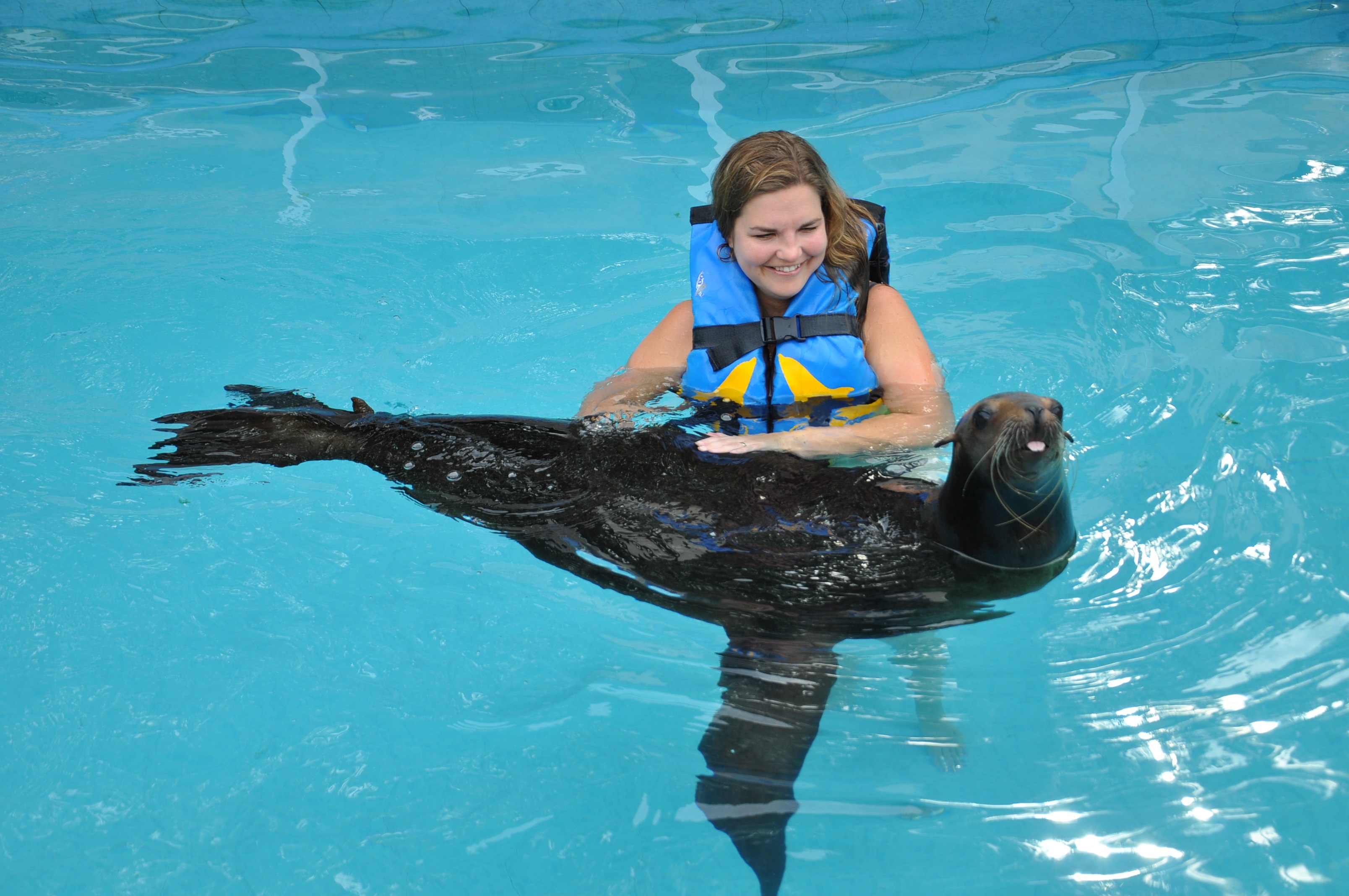 Sea lions
They are highly intelligent, social, cute and funny friends. Interacting and swimming with sea lions will make you learn more about their life, habitat and blasting personality. Sea lions programs are located in natural environments, therefore you will be the guest in their own world, but they will welcome you with amusing tricks and smacky kisses.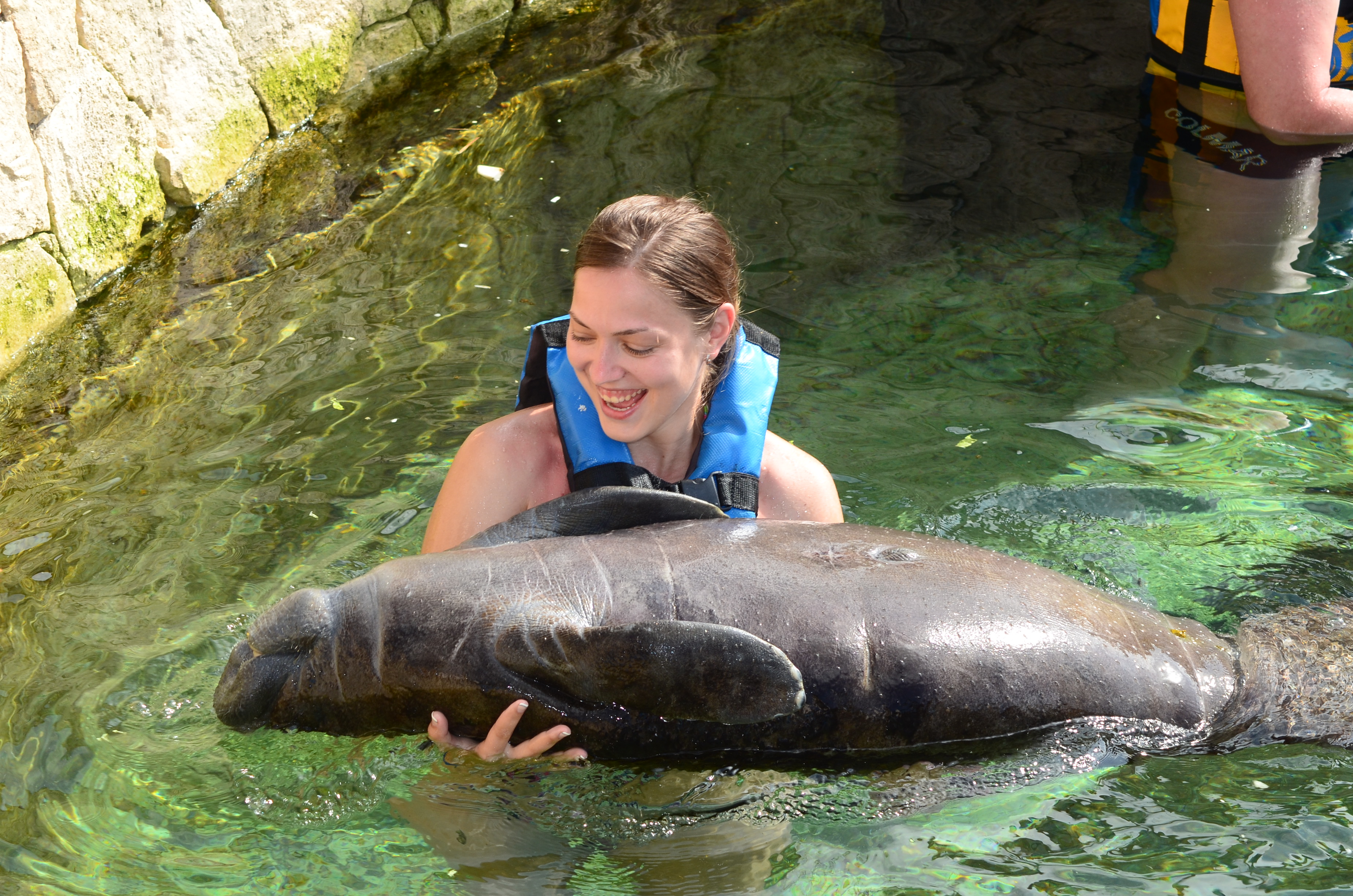 Manatees
The experience of swimming with manatees means having gentle and large marine mammals as buddies, as well as learning more about their life and habitat. Manatees are located in their natural environment, therefore you will be the guest in their own world, but they will welcome you. We are sure you will have great moments with them!