Carolyns View Guest House
Port Of Spain, Trinidad And Tobago
517
Recommend?
Accommodations (

Hotel )
|
Family
#1
recommended
Family Hotel
in
Port Of Spain, Trinidad And Tobago
(view list)
Your home away from home
Edzra and Carolyn are owners of this Port of Spain inn, who understand better than most the needs and wants of today's traveller. Having spent over 35 years abroad before returning to their native home of Trinidad and opening Carolyn's View Guest House, they have integrated all of their favourite features under one affordable accommodation roof. Carolyn's View Guest House comes highly recommended for families and small groups because of their accommodation style and value-infused rates.
Affordable and Family Friendly Accommodations in Port of Spain
With room rates below $110USD per night for four, Carolyn's View Guesthouse is an extra affordable option for a vacation to Trinidad. Review after review praises them for their outstanding service and extra-convenient features. Truly a home-away-from-home you will appreciate extra touches lie laundry service, a self service kitchen, air conditioning, and the all important WIFI.
These accommodations are suitable for everyone; from the solo discerning traveler to groups and families. If you are in need of something budget-friendly without sacrificing quality you have found it at Carolyn's View Guesthouse.
Discover why you should visit Trinidad
Discover why Trinidad's Port of Spain is the place to be (especially during Carnival). You will be only 5 minutes from this famed Caribbean city. Ample transportation, shopping nightlife, and sightseeing awaits. Maracas Beach (one of the most popular in the area)is about 35 minutes away, but Port of Spain is home to 38 beaches in total, giving you ample sand to explore.
Carolyn's View Guesthouse Specialty Feature
Everything about Carolyn's View Guest House is exceptional. Starting with what the name hints at, the location sits hillside affording you incredible views of Port of Spain, followed by vistas of the ocean.
The service is another feature at this small hotel that sets it apart. Rated "Excellent" on several review websites you can be assured that hospitality and quality go hand-in-hand. Always going out of their way to make sure you are completely satisfied, they make sure you are comfortable.
The rooms feature updated amenities, true. But, they also enough beds for at least three, refrigerators so you can save on snacks, and (in most cases) an outside patio.
Amenities Include:
Air Condition and Ceiling Fans
Hot and Cold Water
Cable TV
High Speed Internet
Alarm Clock
Private Bathrooms
Cell Phone Rental
Iron and Ironing Board
Small Refrigerator
Complimentary Coffee and Tea
Laundry Service
Self Service Kitchen
Parking Available
Airport Transfers upon request
Island Tours upon request
Port of Prince Affordable Room Choices
Room #1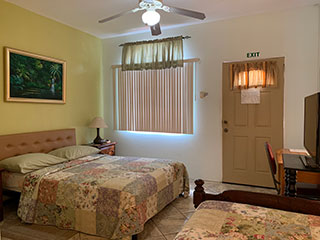 This room is ideal for a family of three. It includes a private bathroom, cable tv, a refrigerator, closet, air conditioning and internet service.
Interested in this room? Contact Us View Rates
Room #2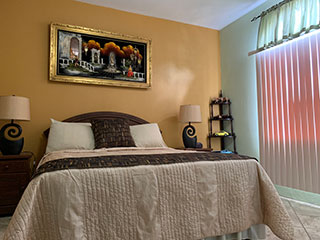 If you like space this room is for you! Ideal for couples, it features air conditioning ,a private bathroom, cable tv, a refrigerator, closet, internet service and an outside patio.
Interested in this room? Contact Us View Rates
Room #3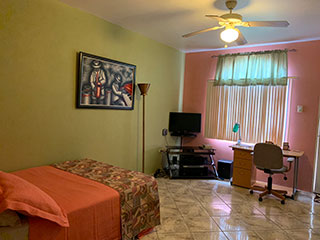 This is a double occupancy room with an outside patio, air conditioning, a refrigerator, a private bathroom, cable tv andinternet service.
Interested in this room? Contact Us View Rates
Room #4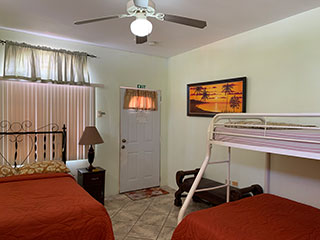 This family/group room features a full size bed along with one bunk bed and can accommodate 3 to 4 people. It includes air conditioning, a private bathroom, a refrigerator, cable tv and a closet.
Interested in this room? Contact Us View Rates