Bosque Del Cabo Rainforest Lodge
Cabo Matapalo, Costa Rica
2047
Recommend?
Accommodations (

Lodge )
|
Hidden Gem, Romantic
#1
recommended
Hidden Gem Lodge
in
Cabo Matapalo, Costa Rica
(view list)
Romantic nature lodge bungalows
Dramatically situated hillside overlooking the sea and nestled within the 750 acres of rainforest, Bosque del Cabo is the ultimate choice for nature lovers, adventurers, and those in seek of a hidden gem unlike anything else. Raved about by past guests, recommended by experts such as Travel + Leisure, Fodor's, MSNBC, Lonely planet, Times Online, Conde Nast Traveler, and many more, you can be sure that Bosque del Cabo is an excellent choice for your next getaway.
Bosque del Cabo is a premier Costa Rica Eco Lodge offering a romantic rainforest getaway and a naturalist's dream come true. Crowning a point 500 feet above where the Golfo Dulce meets the Pacific Ocean, nestled in the unspoiled jungles of Costa Rica's Osa Peninsula is a paradise found.
Location
Bosque del Cabo, which opened its doors as a hotel in 1990, is owner operated and dedicated to forest reservation. Located in a unique and fortunate position at the very tip of the Osa Peninsula in the southern Pacific region of Costa Rica, this 750+ acre forest reserve features private, spacious bungalows and gorgeous houses perched atop the cliffs of Cabo Matapalo, each with beautiful ocean views, tropical breezes and the rainforest at your doorstep; or choose beautiful and rustic garden view accommodations surrounded by thriving rainforests.
Accommodations
Please remember, while we will always try to fulfil the wishes of our guests to be in a particular one, we never guarantee a certain cabina.
CLASSIC CABANAS:
Our 2 classic bungalows (Bambu & Sol) are constructed of tropical hardwoods with thatched-roofs. All of the bungalows have private bathrooms, outdoor garden showers, and porches with spectacular views of the Golfo Dulce and Pacific Ocean. We have also included screened windows and small fans for your comfort. These cabinas offer 2 double beds, indoor bathroom, outdoor garden shower, hammock and easy chairs, and double folding doors that open up to amazing views of the stunning blue Pacific.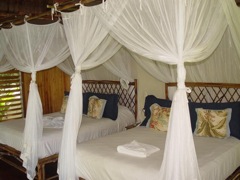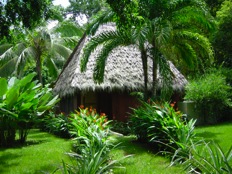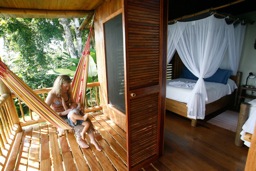 DELUXE CABANAS:
Bosque del Cabo offers 8 deluxe bungalows (Mariposa, Lapa, Congo, La Palma, Manglillo, Pizote, Gecko and Tucan). These bungalows are all built in the same tropical style, but each is a little different with its own unique features; all are lovely and have wonderful ocean views. The bungalows are either tropical hardwood and thatched-roof construction, or stucco and tile construction, or a combination of both styles. All of our deluxes feature king-sized beds, larger bathrooms with dressing area, expanded outdoor garden showers, hammocks and easy chairs for lounging, and wraparound porches which step down into observation decks.
The views from these decks are incredible, perfect for birdwatching or stargazing. Three of the seven bungalows have lofts (Tucan, Manglillo and La Palma), which include 2 beds (1 single bed and 1 double bed). Two of the deluxe bungalows have outdoor bathtubs in addition to the outdoor garden showers (Mariposa and Tucan).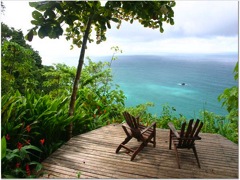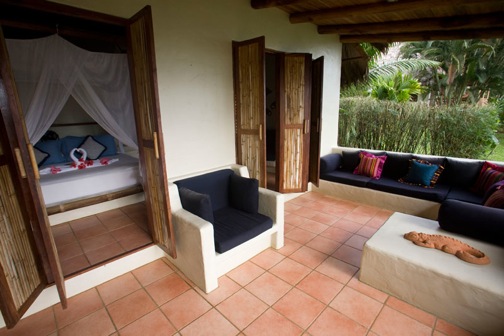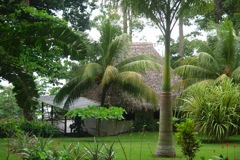 Activities
There are many fun, exciting, and unique adventures to enjoy here at Bosque del Cabo. We are here to help you have a fun and active (as much as you want) vacation.

Do you want to catch a Sailfish? Or learn how to surf while Scarlet Macaws fly overhead and you enjoy the stunning view of the rugged rainforest coastline descending to the gorgeous blue Pacific shore?
Do you dream of riding a horse through dense rainforest until you find an opening that takes you to an amazingly beautiful and deserted beach? Maybe you just really want a guide to show you that beautiful and elusive Baird's Trogon (and the Chesnut-mandibled Toucan, the Red-capped Manakin and the Laughing Falcon... of course!)?
We have it all here for you. You can go for the really active and thrilling adventures, such as zipping through the rainforest to alight on our 110 foot high tree platform or descend a natural rock wall as you follow the course of a beautiful waterfall, or try more tame ventures such as a leisurely sunset tour around the Bosque grounds or a relaxing kayak tour around the Golfo Dulce. And you can even try our totally relaxing activities such as having a jungle massage or shopping for local crafts in our gift shop. We will do our best to set up all the tours you want once you get to the lodge. The only tour that we recommend setting up in advance of your stay is sport fishing (due to limited number of boats and captains).
Dining
Bosque del Cabo is known for having consistently delicious and plentiful meals. Our food, and guest satisfaction with our restaurant, is really important to us. All the meals are made from scratch, and prepared with fresh, local ingredients blending styles from American, Costa Rican, and international cuisines.

Breakfast and lunch are served during set hours. Guests are welcomed to come eat at any time during those hours.

Lunch can either be eaten in house or packed to go. The packed lunches are popular since many guests like to spend the day hiking or at the beach. The lunches can be ordered at breakfast and picked up any time.

Dinners bring all the guests together at large candle-lit tables. We often serve plentiful buffet style dinners; however, sometimes we will serve plated dinners with a choice of entrée (on these days we will have a board posted with the choices and you will be asked to make a choice during the breakfast hours).

Please advise us upon check-in and prior to arrival by email or phone call if you have any special dietary needs or desires

. We are happy to accommodate vegetarians.

Private dining tables are available; please advise us at the lodge if you are interested. Coffee & tea are available in the restaurant during the day. We serve complimentary tropical juices during breakfast and complimentary iced tea during lunch. Snacks are available during the afternoon (look for them in the coffee service area).
Bar
Bosque del Cabo has a full service bar located next to our pool, with a newly renovated lounge area. We have great bartenders and the bar is especially popular in the hour before dinner (6-7pm) when the guests will gather to have a cool drink, meet each other and tell stories and adventures from their day.

Our bar stocks a selection of wines, Costa Rican and international beers, well drinks, Margaritas, Mojitos and blended Tropical cocktails, plus sodas, lemonade, fruit smoothies and non-alcoholic drinks. Champagne is also available by bottle.
Groups
Bosque del Cabo has hosted a variety of different groups over the last (almost) two decades, including family reunions and family groups, photo workshops, yoga groups, birding groups, mountain biking tour groups, outdoor active travel groups, private parties and so on. And of course Bosque has always been a premier destination for wedding parties and honeymooners. We really enjoy having groups stay at the lodge, and work hard to make the event, whatever it is, special and memorable. We would be happy to discuss the details necessary to accommodate your personal or corporate group. We do have limitations, being a small lodge and being remotely-located, so please be sure that your group is looking for a nature lodge experience.
Sustainable Tourism at Bosque del Cabo
We at Bosque del Cabo have pledged our time, funds and hearts to preserving this beautiful area surrounding our eco lodge. We believe that we have the duty to not only use our surroundings for our own comfort and convenience, but also to respect, foster and protect that environment.